Wonderland's rabbit statue in Llandudno removed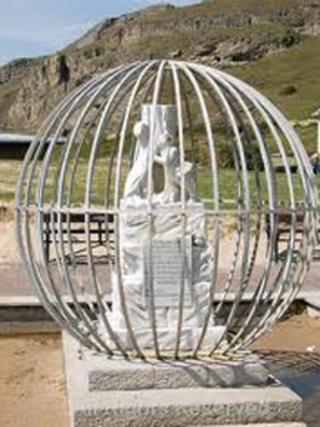 A vandalised statue of a white rabbit from the Alice in Wonderland story has been removed for repairs.
The statue's ears have been missing for years and Conwy council has removed it from its place by West Shore boating lake in Llandudno.
It wants to place the statue in the centre of the lake instead.
Alice Liddell, the little girl who was the inspiration for Alice in the books, spent her family holidays in Llandudno in the 19th Century.
But the Friends of West Shore group say they were not told it was being removed and are concerned about the length of time it could be left in storage.
The group has been granted funding to help improve the area and was behind a decision last year to have the statue moved.
Conwy council became involved after it emerged the statue was a listed monument and planning permission was needed to move the statue. An application was submitted last month.
But the group's secretary Trish Holland said the timing of the removal means their other improvements work cannot be completed until they know where the statue will be placed.
She said: "We are not sure if the statue is going to be coming back to its original position or if it's going to be kept in storage until a decision is made.
"That could take months. It's a shame it's come at the height of the season."
A spokesperson for Conwy council said: "The White Rabbit statue is currently being repaired.
"A planning application has been submitted to relocate the statue to the centre of the boating lake.
"It was decided it would be efficient to remove it from its existing location for repair, whilst awaiting the listed building consent."
Plans were announced last year for a new Alice in Wonderland visitor attraction in Llandudno.
It is one of several ideas to use the resort's connection with Alice to bring more visitors to the town and develop the tourist industry.
The town once boasted an Alice visitor centre, but it closed in 2008 while the Liddell house was demolished that year.