Urdd Eisteddfod traffic queues up to 'six miles'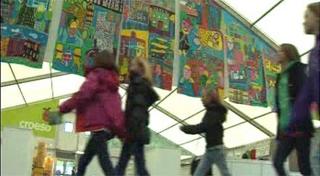 Organisers have apologised after a six-mile queue hit many attending the Urdd National Eisteddfod in Gwynedd.
Up to 6,000 cars are expected each day and restrictions are in force on the main Caernarfon to Pwllheli route.
Traffic Wales say traffic is heavy heading north on the A499, while some say they have queued for three hours.
About 100,000 visitors and 15,000 competitors are expected at the Eisteddfod between 4-9 June at Coleg Meirion Dwyfor College, Glynllifon.
Sian Fox, from Penarth, travelled to north Wales last night, but said her six-mile journey from Caernarfon this morning took three-and-a-half hours.
"There are children running down the middle of the road with their instruments trying to make their performances," she told BBC Wales.
"I've been coming to Eisteddfods all my life and have never seen anything like it.
"There are cars being abandoned at the side of the road. I have walked three miles and my husband is still in the car."
A spokesperson on behalf of the Urdd National Eisteddfod, North Wales Police and Gwynedd Council said there had been a record 23,913 visitors on Monday.
"Unfortunately, despite the detailed traffic management plans that have been put in place by the Urdd Eisteddfod and approved by North Wales Police and Gwynedd Council, a combination of the heavy traffic heading into the Maes and the volume of Bank Holiday traffic heading to and from the Llŷn Peninsula caused delays on the A487 and A499 today," said the spokesperson.
"We apologies for the inconvenience.
"As is the norm for large events like the Urdd National Eisteddfod, the traffic management arrangements are reviewed constantly to see if there are any lessons that can be learnt for the remainder of the week.
"Some changes will be made to the traffic plans for the remainder of the week."
Urdd visitors were advised to start journeys early, to follow the signs and for local people to use the regular public transport service and the shuttle bus to the Maes from Caernarfon and Pwllheli if at all possible.
The spokesperson added that shuttle buses are running every hour from Caernarfon although traffic problems may have made have them late on Monday morning.
The Eisteddfod was officially opened on Sunday evening with a concert.
It included performances from acts like Rhys Meirion, the Glanaethwy Choir and baritone Iwan Wyn Parry.
The event is held on a different site each year with the 2013 event being held in Pembrokeshire.
It was last held in Glynllifon in 2009.
Two local roads - Allt Goch and Lon Cefn Glyn - will also become one-way for the duration of the event.