Father's book on son Cai ap Leslie's US motorbike death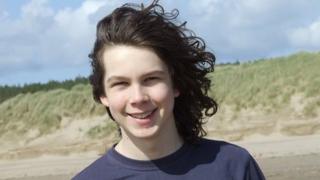 A father whose son died in a motorcycle crash while the pair were riding in the United States has written a book about how he coped with his loss.
Cai ap Leslie, 18, was a week into the 10-month adventure when he was involved in a crash with a truck on a Los Angeles freeway in July 2007.
Following his son's funeral, Les Kay, from Bethesda, Gwynedd, returned to America to complete the journey alone.
His experiences are recounted in America Through a Veil of Tears.
Mr Kay, 52, said the book starts with the day his son died, but the bulk of it centres on his lone 16,000-mile journey, and how he went about dealing with the loss of his son.
"I am a very well travelled person. We had travelled a lot together and we enjoyed the same sort of passion for exciting sports," Mr Kay said.
"We were only a week into our journey when the accident happened. A fault occurred on his bike which resulted in a loss of power and he was in collision with a truck."
Ten days after Cai's funeral in Wales, Mr Kay returned to the United States to try to complete the journey he had started with his son. He spent the next eight months riding around north and central America.
'Into perspective'
"I was on the plane coming home [for the funeral] and I thought I couldn't end it there.
"I didn't want his death to be for nothing, and had to try and complete what we had started," he added.
"I wrote a blog when I was on the journey and I had a personal journal, but I never thought about writing a book until I returned home.
"The blog was a blow-by-blow account of what I was going through and the things I was seeing."
He said his lone journey by motorcycle helped him put his son's death into perspective.
"It reflected how I reacted to things, and I suppose I wrote it to help me come to terms with what happened."