Grid reference notices trial to help lost walkers on Snowdon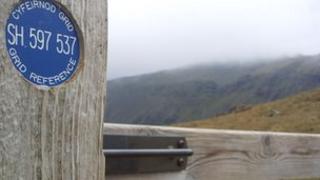 Plaques with map grid references have been attached to gates and stiles to help disorientated walkers find their way on Snowdon.
The Snowdonia National Park said the idea came from mountain rescue teams.
Llanberis Mountain Rescue Team chairman, John Grisdale, said he hoped it would reduce hundreds of man-hours spent trying to find people.
The plaques are the latest initiative by the Mountainsafe Partnership to improve mountain safety.
In March a safety campaign was launched including a smartphone application.
Called the Mountain Info Service, it is free to download and billed as "essential planning tools for mountain walkers" with weather information, specialist advice and video clips.
'Man-hours'
A separate information service using Twitter was also launched in December giving weather advice and walking information.
There were 411 calls for help from hill walkers and climbers last year on Wales' biggest mountain.
"Although it is rare for an incident to occur directly next to a stile or a gate, walkers often become disorientated and rescue teams spend hundreds of volunteer man-hours trying to locate people who are lost but unhurt," said Mr Grisdale.
"These discs are a simple idea which will allow people to locate themselves and could prevent them having to call us in the first place."
Gruff Owen, a Snowdonia National Park warden said it was developed to be as unobtrusive as possible on the mountainside.
"The markers are being placed on pre-existing stiles and gates.
"Walkers who've brought a map, and remember their geography lessons, will easily be able to pinpoint their position.
"I hope the markers will also serve as a reminder for some to polish up on their map and compass skills," he said.
A set of commissioned designs by illustrator Jac Jones have also been distributed amongst businesses in the National Park to reinforce the safety message.