Opera singer Sion Goronwy Jones loses over 11 stone in 12 months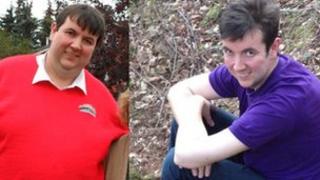 An opera singer from Gwynedd who once weighed 27 stone is celebrating after losing 11 stone in 12 months.
Ironically Sion Goronwy Jones saw a poster advertising his local weight-loss group whilst he was buying "another portion of chips and gravy" at a chip shop near his Bala home.
Mr Jones, 38, said he was determined to reach his goal before his 40th birthday.
Slimming group leader Lynda Jones said she is "so proud" of his achievement.
The singer said: "I felt that this was my last chance before I get to 40 because it is more difficult after that."
Despite his work often taking him away from home, the bass has managed to maintain his weight-loss by "being more organised and thinking of alternatives that I can eat".
"If I have to stop at a service station now I'll have a piece of fruit, or even a packet of ham.
"There are alternatives you can have, and if all else fails you can have chocolate - nothing is banned."
The singer even maintained his weight loss during two stints living and working in France.
He said an unexpected benefit had been an improvement in his bass tones.
Mr Jones has been named 'Man of the Year' at the Bala group of Slimming World, and now goes forward to a national competition.
"There is a lot of humour at the group, and we laugh a lot and that support is important," he said.
"The old clothes with 62-inch waists have had a fling and have gone to the Salvation Army, although I'm not sure they'll have anyone big enough who needs them.
"It's nice too to be able to walk down the street without someone commenting on your size.
"I'm tall too, at 6ft 7inches, so it's been quite a change," he added.
Group leader Lynda Jones said: "He is such an inspiration to everyone and he's gained so much confidence.
"He's done amazingly well, especially carrying on when his work has taken him abroad."