Marine conservation zones: Pwllheli meeting votes no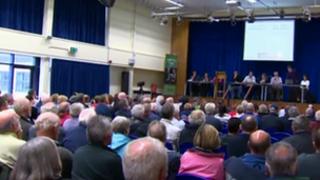 A protest meeting has voted against plans for new marine conservation zones off the Welsh coast.
About 300 people were at Thursday's event in Pwllheli, Gwynedd, to discuss Welsh government proposals for three or four zones by 2014 from a list of 10 potential sites identified by experts.
Speakers warned the zones would destroy livelihoods and damage the economy.
Environment Minister John Griffiths says the zones are necessary to protect wildlife.
Nick Thomas, the north Wales operations manager for the Countryside Council for Wales, which advises the Welsh government, said the zones would need support from the local community.
"After tonight's meeting it is obvious that this support is not there," he said.
Mr Thomas said the consultation period on the plans was ongoing. Ideas put forward by people at the meeting would be passed on "and there could be a way forward".
The Welsh government is inviting comments on the plans until the end of July.
All responses will then be considered before more detailed plans are discussed further.
'Voices heard'
Clare Russell Griffiths, who chaired the meeting, organised by Llanbedrog Community Council, said it had gone well "because people had their voices heard".
"The Welsh government and the Countryside Council for Wales say they have heard us. We'll see if they have listened," she said.
She added that she would have liked the whole plan dropped, but would be happy if there was a model where "there is co-operation and input from people who are directly affected".
She said it would be better "than have a group sitting around a table in Cardiff deciding what they are going to do with us in north Wales".
Mr Griffiths has said that jobs and livelihoods should not be hit by the proposals.
"This is not about putting any fishermen out of business," he said.
"It's about recognising the environmental imperatives that we face and balancing those up with the socio-economic interests.
"If we can have effective engagement with those most likely to be effective by these changes, then hopefully we will get the eventual balance right."
The Welsh government has also emphasised that this was only the first stage in listening to views.