Bangor shopping revival hope with Castle Hill Arcade in old Debenhams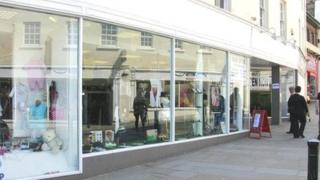 New and established businesses are to be given an opportunity to set up shop at an old Debenhams store.
The owners say they hope the new venture in Bangor, Gwynedd, called Castle Hill Arcade will rejuvenate trade in High Street.
The department store moved from the premises near the cathedral into a new city centre location in 2008.
Since then it has been empty. An official opening will be held on Saturday.
"Our idea is to work with established traders but also the Prince's Trust and various Mentrau Busnes (business enterprise bodies) to help tenants who are starting up," said Ben Pulford, director of Triton Lettings Ltd, which now looks after the building with Castle Hill Arcade Ltd.
Mr Pulford said the companies were already working with three Prince's Trust tenants.
"We are giving them support for the transition between the time the business is set up, with all the usual costs, and when money starts to come in," he said.
"The hope is that they will then grow with us and maybe one day they will leave and fill one of the empty shops on the High Street," he added.
The open day will feature games and face-painting for children, and a planned appearance by actor Ricky Tomlinson to officially open one of the 14 businesses already on the site.
'Community feeling'
"The open plan nature of the building remains and the idea we have is that people can browse between shops," said Mr Pulford.
"There is a real community feeling in the building, and I hope that feeling is rubbing off on our customers," he added.
Mr Pulford said his organisation was "in this for minimum profit... we as an organisation want to benefit the community.
"We hope this will be the lynchpin between the top and bottom of the town and that it improves footfall in the area," he added.
One of the start-up businesses is run by occasional model Edna Pirez, 23, who has taken her interest in fashion a step further.
"Coming here has been really helpful and I've had a lot of support from the Prince's Trust and the people here," she said.
"My hope for the future is to make my business grow and to develop my range with high quality products.
"I'd also like to arrange a fashion show featuring all the businesses in the building," she added.