Bangor night-time order on young passes peacefully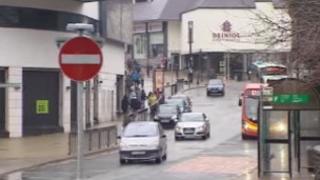 The first night of a controversial curfew on young people in a city centre passed without incident, say police.
It came into force in Bangor, Gwynedd, on Monday and could affect anyone under 16 not with an adult after 21:00 BST.
North Wales Police said there were pockets of young people, who were allowed to stay in affected areas as there were no complaints.
One civil liberties group criticised the dispersal order, likening it to "North Korea, not north Wales".
But police said it was not a total ban or curfew but gives police powers to move on troublemakers.
Young people on the streets overnight were well behaved, according to police.
Sgt Iwan Owen said: "Their behaviour was such that no police intervention was required and as such they were allowed to remain within the area.
"No complaints were received from the public in respect of the behaviour of any youths congregating within that area."
Civil liberties group Big Brother Watch called the order madness and likened it to "North Korea, not north Wales".
Keith Towler, the children's commissioner, said it "demonises under-16s, isolates them from their communities, alienates them from police and spreads the misconception that all young people are troublemakers".
The order has prompted mixed reaction from residents in Bangor with some saying facilities are needed if young people are moved on.
Victoria O'Reilly, from People of Bangor Community Group, said: "Why not sit down around a table and ask children what they want, what the problems are and what they'd like to see happen."
Dispersal orders have been used in other communities, but in Bangor it affects a wide area of the city.
Failure to comply could lead to up to three months imprisonment and/or a fine of up to £2,500.
The order will be imposed for six months before it is reconsidered.