Search dog JoJo back in training after leg amputation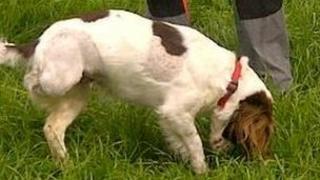 A search dog who had a leg amputated after being found trapped on a fence for 14 days has recovered enough to get back into training.
David Jones from International Training Centre Wales said JoJo's recovery was remarkable because he had feared she would die.
The spaniel also needed laser surgery for eye problems after her ordeal.
The six-year-old was trapped last month after going missing on a walk at Penmaenmawr in Conwy.
"We've started gradually with the training and it's working fine," said Mr Jones.
"As the front legs do the leading and the back leg just pushes her forward she is doing well."
JoJo's owner had thought that even if she lived her working life would be over after infection set in a few days after she was rescued from the fence.
It is believed she survived by eating grass and drinking rainwater.
When found she was very weak. Although initially it was thought she just needed building up, infection set in and it was decided a hind leg would have to be amputated.
"She's really tough, the hardest of the rescue dogs here," said Mr Jones.
"She's still on medication. We're happy with her eye but she is still on eye-drops for now and although there is a little infection in her scar, for which she is on antibiotics, that is because we can't keep her still."
Mr Jones said the turnaround had been astounding.
"She wasn't expected to live, and although it has cost us a lot in one way we have our dog back now.
"She's trained for [searching for] human remains so she'll always be working on a long lead and she won't be running around like a mountain rescue dog.
"It's her nose we want, and she's one of the best," he added.