Bangor dispersal order prompts city council meeting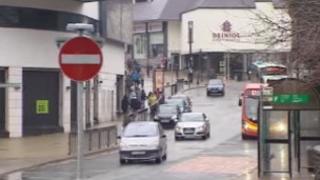 The mayor of Bangor has called a special meeting over a night-time dispersal order to keep unruly young people out of the city centre.
North Wales Police say the order is not a ban on all under 16s not with an adult after 21:00 BST but it has prompted concern locally.
Bryn Hughes says Bangor City Council was not consulted before the order was adopted by police and Gwynedd council.
They say a routine review meeting is due to be held next week.
Meanwhile, councillor Hughes has called a special meeting of the city council on 2 July for fellow councillors to raise questions and any concerns.
He said the council will then arrange a meeting with Gwynedd council and police officers to discuss the order further.
Mr Hughes said he was concerned that the scheme could be adopted without consultation with the city council, adding that the first he knew of it was when he read about it in a local newspaper.
He said the city centre has had "minor incidents" with some youths causing anti-social behaviour like "every town and city does".
But he wants to know what evidence police offered to sort the adoption of the order.
'Strike a balance'
A Gwynedd council spokesperson said the authority worked closely with police to develop and implement policies which "strike a responsible balance between safeguarding communities and protecting the rights of individuals".
She said: "In accordance with the relevant guidelines, North Wales Police provided the council with the case for designating Bangor city centre a dispersal order zone in May.
"Such orders are only used when they are considered to be absolutely necessary, and we are confident that the police had carefully considered all the possible options before putting this temporary order in place.
"This order is not a curfew and the power to disperse groups can only be used when anti-social behaviour is committed."
The spokesperson said that under the council's constitution, its head of strategy and improvement considered the police's evidence before agreeing to the request subject to the following conditions:
Appropriate liaison with social services if children are affected by the order
Officers concerned should take care of the welfare of anyone being moved on
The order is reviewed at six-weekly meetings between the partners, the first of which takes place next week.
North Wales Police have been asked to comment.
Civil liberties group Big Brother Watch criticised the dispersal order adopted earlier this month, likening it to "North Korea, not north Wales".
The order prompted mixed reaction from residents in Bangor with some saying more facilities are needed if young people are moved on.
Dispersal orders have been used in other communities, but in Bangor it affects a wide area of the city.
Failure to comply could lead to up to three months imprisonment and/or a fine of up to £2,500.
The order has been imposed for six months.