£7m Holyhead port logistics hub bid wins £2.2m funding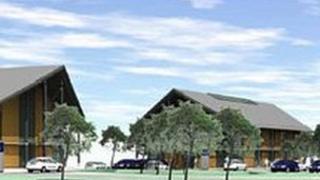 European grants have been secured to drive forward a £7m investment at Parc Cybi near the port of Holyhead on Anglesey.
The £2.2m will boost Conygar Investment Company PLC plans for a logistics and distribution hub.
The Welsh Government said about 150 jobs will be created initially.
Planning permission for office buildings and four industrial warehousing/distribution units was granted in 2010.
The Welsh government's deputy minister for European programmes said the scheme will be a catalyst for future plans.
"This strategically important site will act as a catalyst for future investment and jobs in the region's economy," added Alun Davies.
"We are committed to developing the right infrastructure to encourage investors and enable businesses to grow.
"I am pleased we have been able to back this initiative with EU funding, providing a real boost to north west Wales."
The European money will be used to provide workspace, including two office buildings and two distribution warehouses.
It is seen as a way of further supporting the development of Holyhead port as the UK's main freight terminal serving Dublin and Ireland.
Conygar said the office and warehouses will complement plans to develop a lorry park opposite the site by making it more attractive to companies to "access and serve both existing and emerging markets".
Parc Cybi is one of the sites earmarked for development as part of Anglesey's enterprise zone status.
"We are extremely pleased to have Welsh government support for this much needed facility which will enhance the Port of Holyhead and also create various employment opportunities," said Conygar director, Peter Batchelor.
"Together with our own substantial investment the EU funding will enable us to press ahead with confidence despite the difficult economic conditions," he added.