Gelert shuts Porthmadog distribution centre on Friday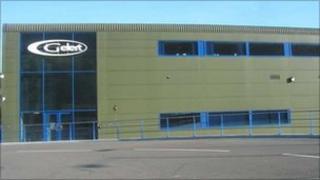 An outdoor equipment distribution company in Gwynedd is closing on Friday with the loss of jobs.
Some of the 80 staff at Gelert in Porthmadog have been offered jobs elsewhere in the company which has a distribution centre in Widnes, Cheshire.
The firm announced the job cuts and closure last September which it blamed on losing an important contract.
It came as a big blow locally as it is regarded as an important employer.
The company's distribution centre closed in Porthmadog last year, said chairman Alan Fort.
Offices at Gelert House closed on Friday with the remaining 16 staff being offered work at Widnes.
Mr Fort described the camping market as tough at the moment, saying the wet weather had not helped.