An album of old photographs of Llanuwchllyn and Bala is bought by Gwynedd archives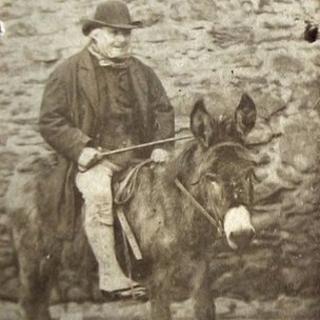 An album of old pictures showing life in a Gwynedd village 150 years ago has been bought at auction for the county's archives.
Gwynedd Council won the bidding with the help of a grant from the Victoria and Albert Museum to secure the lot - also featuring another smaller album - for £620.
The pictures show life in Bala and Llanuwchllyn in the 1860s.
The album was found in an attic of a house in Shropshire.
It is believed they were passed down a family.
Archivist Merfyn Wyn Thomas said the images were of historical importance.
The photos date back to the early days of photography.
"I'm so glad we were able to buy these pictures and that they can come back to the Meirionnydd area of Gwynedd," said Mr Thomas.
"These are historical documents which go back about 150 years, all from the same area.
"It is very unusual for an album like this with a collection of photographs which is exclusively from one area - especially from such an early time - to come onto the market," he added.
Following the publicity about the sale information about some of the people featured in the photographs has also been discovered.
Edward Jones, on the donkey, was a local man and a chapel elder.
He used a donkey to get about because he was unable to walk properly after an illness in childhood.
Despite this he still managed his farm, and worked as a butcher selling meat at the local market each week.