Snowdonia body identified as climber Chris Whitfield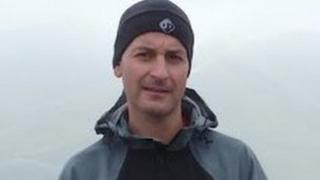 The body of a man recovered from a 1,000m peak in Snowdonia has been identified as missing climber Chris Whitfield.
Mr Whitfield, 42, from Birmingham, was reported missing on 24 June. His death is not being treated as suspicious.
His body was found 90m below a cliff face on the Glyder Fawr mountain in the Ogwen Valley last Friday.
His family said he was "doing something he truly loved, in one of his favourite places".
Mountain rescue teams had been scouring the hillsides for Mr Whitfield when they made the discovery.
Following the identification, a member of his family said in a statement: "Following Chris's disappearance on Sunday [24 June], family and friends gathered in Snowdonia to assist in the search and be near him.
"The outcome was not the one we were wishing for, and has come as a great shock.
"We now appreciate, however painful it is for us, that Chris was doing something he truly loved, in one of his favourite places, and that he did not suffer unnecessarily."
Mr Whitfield's family thanked the mountain rescuers and the local police.
North Wales Police said on Saturday that it had been a "protracted and difficult" operation to recover the fallen climber from steep and loose ground.
His body was found by an Ogwen Valley mountain rescue team and a Search and Rescue Dog Association dog handler.
He was airlifted to hospital in Bangor by an RAF Valley Sea King helicopter.