Bontnewydd-Caernarfon by-pass preferred route unveiled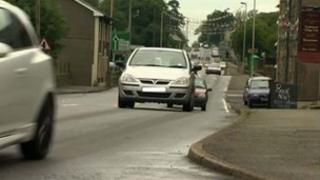 The preferred route for the Bontnewydd and Caernarfon by-pass in Gwynedd has been unveiled.
It starts at the A499/A487 Goat roundabout, by-passing Llanwnda, Dinas, Bontnewydd, and Caernarfon.
The route is expected to get a mixed response as some have already voiced concerns.
Local Government Minister Carl Sargeant said it was chosen after consultation and was the "best option to relieve congestion and improve safety".
"It gave local residents and businesses the opportunity to raise their concerns and voice their support for the different options," he added.
"The next stage will be to develop the preliminary design for the bypass and prepare for publication draft orders and an environmental statement with a view to starting construction after 2015," he said.
There had been concerns the bypass was being put on the back burner.
Caernarfon Town Council had written to First Minister Carwyn Jones, demanding to know why no route has been chosen despite two public consultations.
After passing the Caernarfon Cibyn industrial estate it would reconnect with the A487 near Y Felinheli bypass.
Councillor Hywel Roberts said: "This is the route I would have chosen personally but I realised that it will affect a number of people and I feel for them".
The Welsh government said the construction bill - based on 2010 costs when the road plan was first discussed - would be about £85.8m, although the final cost would be higher than this because factors such as inflation had not been factored in.
The chosen route - referred to as the purple route - was criticised by some during the public consultation.
Mair Evans, owner of the Gwalia Garage in Caeathro, said the choice was a shock.
"I can't believe they've chosen this purple route.
"As everyone can see we have a garage and forecourt here, and everywhere you see villages being by-passed, those villages have died.
"My greatest concern is for the people I employ and their families, because if this goes ahead jobs will be lost.
"I can only hope that there is a change of heart and that a route which is more sympathetic to local people will be chosen," she added.
Gwynedd council leader Dyfed Edwards said: "This road is going to be an extremely important link between the north of the county and more rural areas.
"It is going to make the areas in the south of the county within easy reach of the A55."
He said the council had pointed out the merits and disadvantages of all the routes being considered and it was not up to the minister to choose the most suitable after careful consideration.
"There is a potential here to create jobs in north Gwynedd and Anglesey.
"What we need is that the infrastructure is in place for this to happen and this highway is an important part of that," he added.