Tornado crash: Anglesey Flt Lt Hywel Poole tributes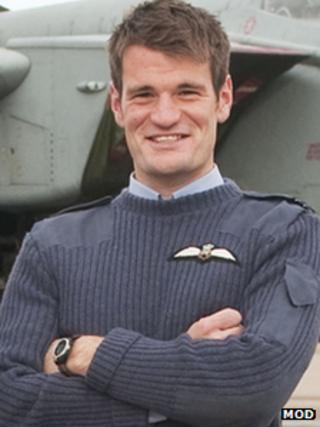 Tributes are being paid to an Anglesey airman who is among three who died when two Tornado GR4 jets crashed in the Moray Firth, Scotland.
Flt Lt Hywel Poole, 28, from Menai Bridge died in hospital after being airlifted from the scene.
Sqd Ldr Samuel Bailey, 35, and Flt Lt Adam Sanders, 27, are also feared to have died.
The sole survivor of the incident, who has not yet been named, is in a serious but stable condition in hospital.
The planes from 15 (Reserve) Sqd at RAF Lossiemouth, in Moray, crashed into the sea south of Wick, in Caithness, during a training flight on Tuesday afternoon.
The names were released by the UK Defence Secretary Philip Hammond in the House of Commons.
Mr Hammond said: "I am sure the House will wish to join me in paying tribute to the crew from 15 (Reserve) Squadron, based at RAF Lossiemouth, who were involved in the Tornado GR4 aircraft incident on Tuesday.
"My thoughts - and, I am sure, those of the entire House - are with their loved ones at this difficult time, and with the fourth member of the squadron involved in the incident, who is currently in a serious but stable condition in hospital."
Flt Lt Poole was born in Bangor, growing up in nearby Menai Bridge on Anglesey and going to school at Ysgol David Hughes.
It was there he became a member of the Welsh national and British national sailing squads and became a RYA instructor.
He recently sailed solo around Anglesey in a dinghy to raise more than £2,000 of the Help for Heroes charity.
He joined the RAF officer training programme in 2006, after studying for a degree in naval architecture at Southampton University.
After successfully completing basic and advanced flying training he was selected for training on the Tornado GR4, arriving at RAF Lossiemouth in November 2011.
'Natural talent'
Officer Commanding XV (Reserve) Squadron, Wing Commander Jonathon Moreton, said:
"Flight Lieutenant Hywel Poole had an outgoing personality, was universally liked by his colleagues, and was an enthusiastic member of my squadron and the Royal Air Force.
"Displaying a natural talent for flying the Tornado, he quickly established himself on the squadron as a very capable and confident pilot, which, coupled with his keen sense of humour and engaging character, made him a very popular student on the squadron.
"Outside the squadron, he dedicated much of his personal time to others; he mentored other station personnel who aspired to gain a commission and would always volunteer to raise money for station charities, including Help for Heroes.
"An infectious personality, always cheerful, friendly and immensely likeable, Hywel will be greatly missed by all. My thoughts are with his family and friends at this incredibly difficult time."
An investigation into what caused the fatal air crash is continuing, as are efforts to recover the missing crew and wreckage.