Porthmadog bypass: Dodrefn Cymru furniture shop closes with three job losses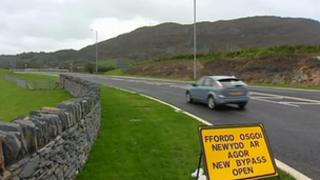 The owner of a Gwynedd furniture shop says she has decided to close because the opening of a bypass around the town has led to a drop in passing trade.
Three people will lose their jobs with the closure of Dodrefn Cymru in Tremadog on Friday.
In 2010, a Gwynedd council-led group was set up to examine the economic and social effects of the £34.4m bypass.
The council said an "action plan" was being put in place.
The bypass on the A487 was created to improve journey times, with an easing of congestion and better environmental conditions.
"The decision to close is mainly due to the bypass," said Dodrefn Cymru's owner Liz Whitehead.
'Old routines'
"We are in negotiations for another shop in Porthmadog as we need to be down there, but at the moment the three staff will lose their jobs."
Ms Whitehead said as soon as the bypass opened last September passing trade dropped off.
"We waited a bit to see if people would go back to their old routines and for trade to pick up, but it didn't. There is no passing traffic in Tremadog.
"The bypass is good for residents but not for businesses and I don't think we'll be the only ones affected here."
A Gwynedd Council spokesperson said the authority had been working with the town council, community councils and business organisations in the Porthmadog area to develop an "action plan" in response to the bypass opening.
The working group has also gained funding for developments aimed at making the most of opportunities brought about by the development and lessening the impact of the road on the local community, the spokesperson added.
"Tremadog has benefited from funding secured through the Visit Wales' Tourism Infrastructure Support Scheme and the European Union's Rural Development Funding through the Experience Gwynedd project.
"This has allowed better marketing opportunities for the village.
Interpretation boards showing visitors where the main attractions and services are, and gateway features on the new roundabouts are being installed..