Gwynedd Museum may move to Bishop's Palace in Bangor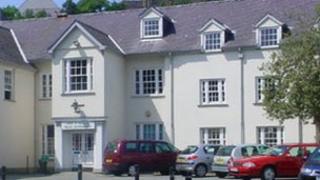 Plans are being drawn up to spend £2.1m to relocate Gwynedd Museum and Art Gallery in Bangor.
The Heritage Lottery Fund (HLF) has paid £158,000 to help organisers push forward plans to move collections to Bishop's Palace, one of the city's oldest buildings.
Sited near the bus station, it dates to the mid-16th Century, although it has undergone alterations over the years.
Plans include making the building a hub for heritage from across a wider area.
The museum is currently on Ffordd Gwynedd, a few streets behind Bishop's Palace, which is also known as the town hall.
The museum was started by Bangor University in 1884, with its collections initially used as teaching aids.
Now Gwynedd council and Bangor University are working together in an attempt to transform the accessibility of collections.
The joint partners hope to bid for a total of £1.3m in HLF funds to help realise their plans, which have yet to be confirmed.
They say Bishop's Palace will be renovated to become more accessible with improved visitor and educational facilities, acting as a central point to reflect the area's history by working with other museums and heritage centres.
It is seen as a key building in the city because of its heritage and as it is situated near the site of the new Pontio arts centre which, it is hoped, will become a "cultural centrepoint".
The museum currently houses a collection of oak furniture dating back to 1666, as well as archaeology such as a Neolithic axe and other Bronze Age and Roman finds.
It also has more than 700 textiles such as Welsh dresses and 19th Century clothing, including fabrics made locally with home-produced wool.
'Hidden collections'
The collections have been in their current building since 1973. The museum is a Grade II-listed house dating to the 1870s.
Experts say Bishop's Palace is the oldest continuously occupied domestic building in Bangor, and is a direct link with the medieval settlement which was created around the cathedral.
"We will be able to develop an exciting project that will ensure that Gwynedd's story is given the interpretation and status it deserves," said councillor John Wynn Jones, the cabinet member for economy and community.
"This is a large scale and ambitious partnership project which aims to integrate and connect the build heritage of Bangor, Gwynedd Museum and Bangor University collections with community heritage right across Gwynedd."
Jennifer Stewart, head of HLF in Wales, said as one of the oldest surviving buildings in Bangor, it was fitting that Bishop's Palace should become home to a museum.
"It is so important to see these hidden collections, which include the unique collection of musical instruments, opened up for people to explore and enjoy," she said.