Forgotten kitchen garden at Penrhyn castle uncovered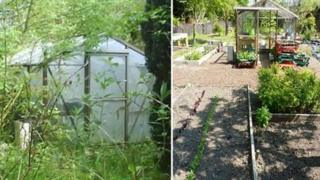 A long-forgotten kitchen garden in a historic Gwynedd castle has opened to the public.
It has taken 18 months to clear brambles and nettles from the National Trust's Penrhyn Castle in Bangor.
The garden was left to run wild for about 10 years, and was so overgrown that when work began no-one realised there was a greenhouse in the centre.
It is not the kitchen garden for the castle, but is believed to have been the gate-keeper's cottage allotment.
The mock medieval castle belonged to the Pennant family, who are well known for their slate quarries in north Wales, but whose major fortunes came from the Caribbean.
The family acquired plantations in Jamaica and held high office on the island, before a new generation returned to Britain and started trading from Liverpool.
With the money the family made the Pennants acquired substantial holdings in Wales and also developed slate quarries.
Runner beans
Penrhyn was developed on the site of an ancient property, but it is a 19th Century version of a Norman castle.
Runner beans, courgettes. lettuce, broad beans and pumpkin are some of the produce now being grown there.
"We will be preparing a hamper for the tearoom at the castle so they can make secret garden soup out of what we grow," said Resi Tomat, the learning manager at Penrhyn Castle.
"We want to engage the younger and not so young members of the local community in the secret garden and use veg growing as a tool to help bringing generations together."
The bulk of the work on the garden has been carried out by volunteers and people on work placements, and there is still a need for more volunteers to keep the place going, she said.
"There is plenty of scope for anyone to get involved, from behind the scene upkeep of the secret garden to delivering kids' activities," added Virginia Morelli, who is on an European Centre for Training and Regional Co-operation (ECTARC) placement at the castle from Italy.
The project is one of Penrhyn Castle's responses to a report commissioned by the National Trust which found that fewer than one in 10 children regularly play in wild places.
Saturday's event is open from 11:00-14:00 BST.