Prince Charles and Duchess of Cornwall open Welsh Food Centre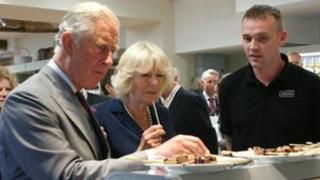 The Prince of Wales and the Duchess of Cornwall have officially opened the £6.5m Welsh Food Centre in Conwy.
Around 250 people welcomed the couple at the centre near Bodnant garden and for once the rain mainly stayed away.
The pair spoke at length to various producers and suppliers and had an extensive tour of the facilities.
The duchess also tried to make tortellini in a cookery class.
The centre is located in the Conwy valley not far from the National Trust's Bodnant Gardens.
It has transformed a range of 18th century building at Furnace Farm just off the A470.
Bet Doroshenko and Hugh Owen Evans had travelled to see the prince, but also to see the transformation of a place they knew well.
"I used to work at the farmhouse and I've come to see what they've done with the place," said Mrs Doroshenko, 84.
"There were six of us working in the house alone, and at harvest time my father used to come to help, my brother worked here too.
"It was an important farm in the area and it's great to see what they've done here," she added.
Fellow visitor, Pat Rowland had travelled from Llandudno junction with Pam Evans and Gwyneth Evans.
"It's good to see the prince come here to promote it as he is the Prince of Wales," she said.
"I think it's great to see the local produce and although I won't be coming here to do my weekly shop I'll definitely come here regularly," added Gwyneth Jones.
As well as the food centre, with food hall, cookery school, kitchens and bar, there is also a restaurant and cafe and the National Bee keeping Centre for Wales to promote bees, and bee-keeping.
"It's great for us that he's here because it will raise people's interest in bees and bee-keeping," said Holly Pinkney from the centre.
Many had visited the centre specifically because of the royal visit but Dorothy Jones and her daughter Ruth Burney had stopped on their way past.
"I can see the house at Bodnant from my house over the river so when we passed and saw that the public were being allowed in I jumped at the chance to see Prince Charles.
"I've been doing some shopping here too, and tonight we're having Bodnant potatoes and gammon for tea," said Mrs Jones.
Ian Miles the butchery manager spoke at length to the royal couple but he said afterwards that he could not remember anything they had asked him.
"They said they enjoyed everything!" he added.
Members of the Eglwys Bach Women's Institute and Merched y Wawr were joined in their cookery class by the Duchess of Cornwall who was more than happy to have a go.
After filling the pasta with a local crab mixture she told fellow pupil Beth Sweetnam that she thought her effort was "a little sticky".
The couple signed the visitor's book in the reception area before chatting to more people on a walk-about on the way to the unveiling of the plaque to officially open the centre.
The prince stopped to shake hands with friends Kathleen Orme, Jane Nolasco and Pat Oliver who told him "you are more handsome in the flesh".
A surprise on the way to the car too - Prince Charles was presented with a pair of hand-knitted Alpaca socks by Alex Dreesbeimdieke-Fawcett.
"I know he likes hand-knitted socks, and we wanted to give him something because we very much appreciate what he's doing," said Alex's mother Sibylle Dreesbeimdieke, who was on a day out with a group from the Rycroft House residential home in Rhos-on-Sea.
The royal couple left Bodnant then travelled to RAF Valley on Anglesey to meet Prince William who serves as a rescue helicopter pilot.