Conwy cricket ground Bodlondeb Park in festival damage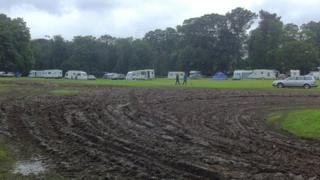 A cricket club says it is "distraught" that its ground will be out of action for the rest of the season after damage caused by rain and a music festival.
Conwy Cricket Club said specialist contractors would have to repair Bodlondeb Park after last weekend's North Wales Bluegrass Festival.
The club said it blamed the weather rather than the festival's organisers.
Conwy council, which owns the site, said it would ensure the muddy ground was repaired as quickly as possible.
Alan Lavery, chairman of Conwy Cricket Club said: "The ground is in an awful state. We're distraught about it. It's a public park as well, so locals and tourists will also lose out."
Mr Lavery confirmed that the season was due to run until mid-September, but it was unlikely the club would be able to play any more matches at the ground before then.
"We're not blaming anyone, as no-one can control the weather," he said.
"To be fair to the festival organisers, they did cordon off the square at the centre of the pitch; it's the outfield that's been damaged.
"The cricket league have been very supportive, and have emailed other clubs to tell them what's happened. We're now desperately trying to reschedule our home games, or find alternative venues to play them.
'Best solution'
"But we stand to lose a substantial amount in extra costs and bar takings."
Iwan Davies, Conwy council chief executive, said specialist contractors would be looking into the best solution to repair the site.
The contractors would be able to advise on timescales that the area will be unavailable for use by the cricket club, he said.
"The council will work with the cricket club to help find alternative venues while the pitch is unavailable," said Mr Davies.
"Conwy County Borough Council is responsible for the park area and making good the surface in a suitable manner.
Gill Williams, one of the organisers of the North Wales Bluegrass Festival, said: "It's really disappointing.
"We took all the precautions we could, including stopping all movements on site as soon as the heavy rain started. But in the end, the weather won."