Anglesey council restarts primary school shake-up talks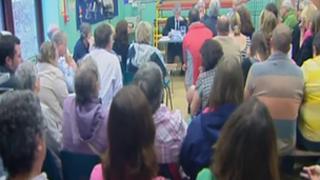 Anglesey council is to restart a primary school reorganisation process in the Llangefni area.
The decision came after one of the commissioners running the authority, Gareth Jones, accepted the original process had been flawed.
The U-turn was announced at a public meeting at Talwrn school on Monday.
The new consultation will include more schools than the original three which were Ysgol y Graig, Corn Hir and Talwrn.
Parents at Ysgol Talwrn had been critical of the original report which had recommended closing the school.
They said they wished to see different options being explored, include federalisation, which means having a joint governing body and sharing staff and resources.
In July last year Anglesey council drew up a new plan to help address a decline in pupil numbers in its schools.
The authority, which has been run by Welsh government-appointed commissioners since March 2011, said it will attempt to protect smaller communities at risk of losing their local school.
But it warned it must tackle the high number of surplus places at the same time.
Following the meeting Mr Jones, the commissioner with responsibility for education, said the council had listened to what the people had to say.
"We've listened very carefully and I would accept there were certain weaknesses in the original consultative document.
"We shall go back to look at that and look at more options for the future of Talwrn," he added.
Manon Huws, one of the parents at Talwrn, said she was glad there had been an admission that there were gaps in the original report and that the process would restart.
"We realise what's ahead but we are ready for dialogue," she said.
"They have been honest with us tonight and I hope they will come back to us after this with more creative ideas for the school's future.
"We'd like to see them try to federalise Talwrn with up to five other small schools to see what that can achieve in terms of savings, opportunities and also the standard of education," she added.