Anglesey council examines private firm plan for repairs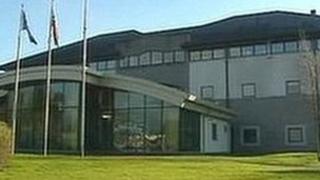 Anglesey council is looking at a potential partnership with a private company to raise funds to help pay for an £18m backlog in property repairs.
As part of the plan, officers will also look to see where savings can be made.
A report has warned much essential maintenance cannot be carried out, leaving buildings in an increasingly bad condition and threatening services.
A business case for the changes will be put together and presented to the council in the New Year.
The council's housing stock is not part of the plan.
Mike Barton, the head of property services, said the partnership could ultimately be responsible for all the council's "operational properties".
'Raise the standards'
"It is still early days, but we hope that a partnership between the council and private company would allow us to secure the significant new investment needed to raise the standards of our property portfolio," he said.
Commissioners, who currently run the authority, backed the proposals on Monday.
They were appointed to run the council by the Welsh government in March 2011, but are due to be replaced by a senior management team in September.
A report from Mr Barton had warned that repair costs had risen a further £2m since 2009.
He said the council needs to spend £12.7m on schools with £5m on health and safety and urgent repairs.
He wrote that less than half of the urgently required maintenance will be completed over the next five years, leaving council buildings in a declining condition and jeopardising future service delivery for the public.
Monday's meeting agreed to support all the report's recommendations.
The asset management plan will go before full council to be ratified.