Faulty lift removed at Alltwen hospital in Tremadog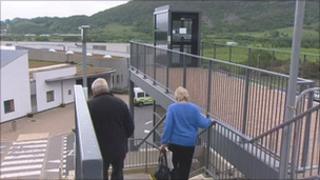 A £40,000 faulty outdoor lift has been removed from a hospital in Gwynedd after working for just a few days over nearly three years.
Meanwhile hospital visitors still have to use the stairs.
The lift was commissioned at Ysbyty Alltwen in Tremadog when the hospital opened in 2009, to link the car park and main entrance on different levels.
Betsi Cadwaladr University Health Board (BCUHB) said it continued to look for other solutions.
"More parking spaces have been created near the hospital entrance, and we continue to look for other solutions," said a spokesman.
He added the lift had worked for four full days and 20 half days whilst it was at the hospital.
In 2011, BCUHB said legal matters were being resolved with the lift company.
The Rev Dewi Morris, a former chaplain at the hospital, and a member of the League of Friends, said the situation was unfair "for visitors and staff".
"The staff have to climb those stairs [to the top car park] in all weather, and at all hours.
"It's not a comfortable feeling, as you never know who is around these days."
Rev Morris said he thought the health authority should have factored in better parking provision at the building stage, although he welcomed the move to create more parking spaces on the same level as the entrance.
"But why has the health authority let things go on for so long? I can't understand the delay with nothing being done," he added.