Llandudno Maesdu bridge overspend set to top £4m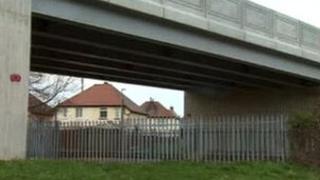 A rebuilt bridge could cost taxpayers over £4 million when final costs are agreed, about four times the original estimate.
External auditors who examined the Maesdu railway bridge project in Llandudno highlight shortcomings in the way it was managed by Conwy council.
An auditors' report says the figure could rise as the council is in legal talks over fees with contractors.
The council said it is acting on recommendations.
Maesdu bridge carries one of the main roads into the town, and reopened in September 2010 after a complete rebuild.
Auditors KPMG point out that the original estimate in 2008/09 was £1.1 million.
However, between the business case being submitted and approved and the final completion of the bridge, the total cost escalated to £3.9 million.
"As well as overspends on both construction and design consultancy, the original pricing missed a number of items - most notably costs associated with utility diversion, provision of a shuttle bus, fees and costs to Network Rail," says the report.
'Significant improvements'
But it reckons the overspend so far - said to be £1.3m between when the "final" decision was made on the project to the "latest" estimate - may not be the final bill.
That is because the final cost remains "provisional with ongoing negotiations and arbitration with both contractor and consultant in an attempt to reduce the council's final liability".
The authority has had to engage external solicitors to deal with the talks, and their costs have not yet been included in the estimates.
The auditors say "significant improvements" to project management processes and cost monitoring have since been proposed with over-runs in costs now better identified as projects are reconsidered when they reach 70% of their budgeted costs.
A Conwy council spokesperson said: "KPMG included a number of key recommendations within the report.
"In response to these recommendations, officers have already developed an action plan and progress will be monitored as part of the authority's service performance review process."
The report is to go to the council's audit committee later on Monday.