Anglesey warning to adults on buying drink for young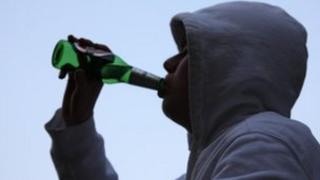 Adults who buy alcohol for under-age drinkers on Anglesey have been warned they face a ban from licensed premises.
North Wales Police and trading standards officials are pledging zero tolerance on adults who help young drinkers.
One officer said it was illegal as well as being "socially irresponsible".
Culprits could also be given an £80 fixed penalty notice, or prosecuted with fines of £5,000. Licensed premises are also being targeted.
Earlier this month North Wales Police held a clampdown in Criccieth, Porthmadog and Penrhyndeudraeth, visiting 21 licensed premises across Gwynedd.
Eight were found to sell alcohol to someone under age and the licensees will be dealt with under enforcement action.
Staff who sold the alcohol have been issued with £80 penalties.
Sgt Andy McGregor said: "There seems to be a general misconception that there is no harm in giving alcohol to underage teenagers.
"In addition to being socially irresponsible to give a child alcohol for unsupervised consumption, it is illegal."
Anglesey council chief trading standards officer David Riley said underage drinking was still a problem despite working with retailers to reduce underage alcohol sales.
"It's clear that the main source of alcohol for underage youths is actually adults buying it on their behalf, be it a stranger on the street or more likely an older friend, parent or family member," he said.