Tom Jones: Tributes to former Wales TGWU organiser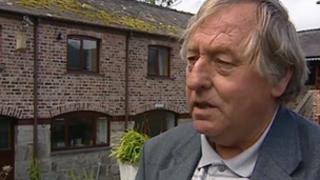 Tributes have been paid to a former union leader involved in one of Wales' longest-running industrial disputes.
Tom Jones was regional organiser of the Transport and General Workers Union (TGWU) when workers at a Gwynedd factory picketed for two-and-a-half years from 2001.
Former Friction Dynamics worker Gerald Parry said he had lost a friend who "had the union in his DNA".
Former Plaid Cymru leader Lord Wigley said his death was a great loss.
The 86 workers at the car parts plant won their wrongful dismissal claim at an employment tribunal in 2003.
They were never paid compensation after a complicated saga which saw the old company Friction Dynamics go into administration in August 2003, before a new company - which is also no longer at the site - began production two weeks later.
Last year a reunion was held to mark the tenth anniversary for all those involved, which was attended by Mr Jones, who was in his sixties.
The Unite union was later formed by a merger of the TGWU (later the T&G) and Amicus.
Mr Parry said: "He led us through the big strike. He had worked hard over a number of years, both with the union and also with the disabled.
"He gave his time to good causes, he had a lot of passion, a lot of experience which he used when the strike was on."
'Fair play'
Mr Parry added: "Tommy was passionate about the union, about people, those with disabilities. He wanted to make sure that everyone got fair play.
"I've lost a friend, but I hope I've also learnt something from him so I can try to help people - I'd like to try for Tommy," he added.
Lord Wigley was an MP for many years and Mr Jones stood against him for Labour in parliamentary elections.
"It was with great sadness that I heard about Tom's death because he did a massive amount through his work with the union, especially at the time of the industrial dispute at the factory," Lord Wigley said.
"We had this understanding that during elections we could scratch each other's eyes out, but we could work together at other times.
"Although were were on opposing sides politically we worked closely whenever it came to the interests of the area," he added.