Non-native crayfish discovered in River Conwy tributary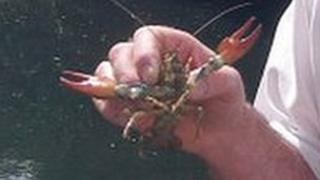 Non-native crayfish have been found in a tributary of the River Conwy, the Environment Agency Wales has said.
Six American signal crayfish were found in a trap set by the agency. They have been removed from the water.
The non-native species carry disease called crayfish plague which kills the smaller native white-claw crayfish.
In May, the agency released 500 juvenile crayfish into a river in mid Wales as part of continued efforts to save the species from extinction.
The agency has rules in place to protect native crayfish, as well as controlling the spread of the American signal crayfish.
A spokesman said trapping of either type is strictly restricted and permission must be sought beforehand.
It is illegal to introduce non-native crayfish into native waters.