Beaumaris to take over running of town leisure centre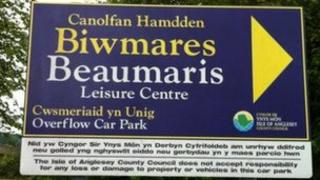 An Anglesey community group is to take over the running of its local leisure centre.
Anglesey council had said it would close the Beaumaris centre in January unless someone came forward.
Friends of Canolfan Beaumaris will initially run the centre - which currently has three staff - in partnership with the council.
It says that ultimately it aims to develop it as a leisure and multi-use space serving south east Anglesey.
"We've had a meeting in the community and have the backing to set up a social enterprise to run the centre," said Alwyn Rowlands, chairman of the Friends of Canolfan Beaumaris.
"The next step now is we meet with the solicitors from the council to set out an agreement.
"It will be a partnership to begin with before the centre is handed over to us completely at the end of a period of time."
Mr Rowlands said he wanted to see the centre - which has no swimming pool but has an exhibition space and a hall which can hold 300 people for concerts - developed further as a multi-use venue.
"There are three staff there at the moment, but we will be creating more jobs in the future," he added.
Before the community meeting which set the ball rolling the county council's head of leisure and culture services, John Rees Thomas, said there had been disappointment in the town due to the threat facing the centre due to recent budget cuts.
"With the continuing economic downturn restricting private sector investment and public purse dwindling, community or social enterprises are fast becoming the solution to sustaining non-statutory public sector services," he added.