Welsh lover's church St Dwynwen's conserved at Llanddwyn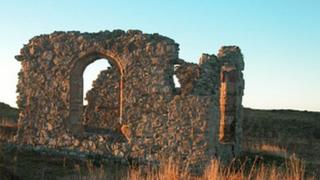 A church dedicated to the patron saint of Welsh lovers, Dwynwen, is to be conserved and partly restored.
Santes Dwynwen died around 460 AD and the remains of the church at Llanddwyn on Anglesey is attributed to a church founded by her in the dark ages.
The designated ancient monument on the island, which is home to the Duke and Duchess of Cambridge, attracts thousands of visitors a year.
Work on the site is to include clearing and rebuilding a collapsed arch.
The clearing work under the guidance of Cadw - which looks after Welsh historical sites - is aimed at clearing rubble and sand from inside of the church to better define its cross-shaped outline.
Part of the Mona Antique project, it is one of 24 sites to benefit from a Cadw Heritage Tourism project.
"An archaeological assessment was commissioned which paved the way for this work on Dwynwen's church," said Graham Williams, the Countryside Council for Wales (CCW) Newborough National Nature Reserve Manager within which the church is sited.
"It will conserve and partly restore one of Wales' most spiritual sites and safeguard it for future generations," he added.
The remains of the church is situated within the boundaries of a circular cemetery wall.
The earthworks are attributed to Celtic antiquity, but they also display a series of features over the church's 1,500 year history.
"On site, and web-based, interpretation, planned for later in the year, will also help visitors better appreciate and enjoy the historic significance of their surroundings," Mr Williams added.