1st Conwy Scouts may wait for two years for new home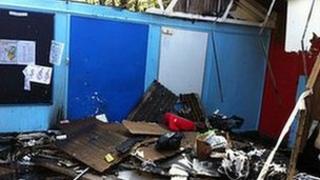 Beavers, cubs and scouts say they are "begging and borrowing" places to meet three months after a deliberate fire destroyed their hut.
The leader of the 80-member 1st Conwy Scouts said they had been overwhelmed by support, but needed to get their own home.
The hut, which had been their base since 1965, was damaged by fire in May.
Since then it has been declared unsafe and demolished.
It will be up to two years until a new hut is built.
"Thanks to the generosity of St John's Methodist church and Bodlondeb youth centre we will have somewhere to meet this winter, and we have been meeting outside over the summer," said James Astrop.
'Dangerous structure'
"We've managed to find some storage facilities too, and leaders are keeping stuff at their homes, as we have a lot of kit to allow us to hold activities for members.
"We could really do with a hall that's ours," he added.
Mr Astrop said the scout hut near the town's historic castle had to be demolished as it was dangerous after the blaze.
A fund-raising event is taking place this weekend at the quayside in Conwy.
Individual scouts have also been doing their bit with one offering to clean all his neighbours windows to raise money.
"We've had many generous offers of help from architects, builders, surveyors, who used to be scouts.
"But, bearing in mind we are all volunteers, it will take a couple of years to design and build a new place," Mr Astrop added.
An estimate for the cost is around £150,000 with the scouts having to raise between a third and a half, and the rest made up of grants.
"We've had people sending in anonymous cheques to us with a note saying 'I heard about the fire, I hope this helps'.
"Another gentleman saw the story online and contacted us from America to offer help.
"He had been a scout in Conwy, and is now 80 years old living in Florida - I'm not sure what he could do, but it's just wonderful to get an offer of help like that," Mr Astrop added.