Anglesey council: Commissioners say council 'turns corner'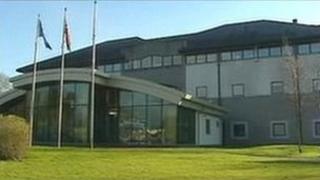 The commissioners helping to run Anglesey council are recommending the Welsh government cuts the level of intervention at the troubled authority.
They "feel increasingly confident that a corner has been turned in respect of democratic leadership on Anglesey".
The commissioners were called in by Welsh government after years of political infighting.
Council leader Bryan Owen said the report demonstrates councillors are "regaining trust on a political level".
Local Government Minister Carl Sargeant has already indicated that the Welsh government will withdraw from the council in 2013.
And last month BBC Wales revealed two commissioners are due leave their posts later in the year.
'Misbehaviour'
Anglesey commissioner Mick Giannasi said: "There will always be a risk that the problems of the past could re-emerge, but we do believe that the council as a body is now more cohesive, and there is clear evidence of a growing willingness to challenge inappropriate behaviour.
"On that basis, members deserve a chance to prove themselves."
Five commissioners were appointed to run the troubled authority last year after what was described as "chronic political infighting and misbehaviour".
Mr Owen said he welcomed their recommendation that some powers should be restored to the political leadership.
"If the minister agrees, we will be ready to prove ourselves by providing the democratic leadership needed to guide the authority," he said.