South Caernarfon Creameries milk processing jobs at risk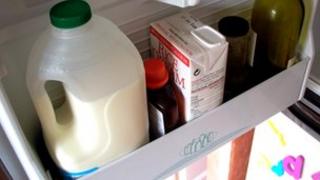 Up to 40 jobs could be lost in milk production at a Gwynedd creamery.
Management at South Caernarfon Creameries, at Chwilog, Pwllheli, have called a staff meeting after losing a major contract to supply milk.
The deal, which expires at the end of the month, accounts for 50% of the 12m litres of drinking milk processed by the creamery every year.
Managers will decide whether to sell or continue their milk production business while continuing to make cheese.
Workers will be told at a staff meeting on Tuesday that there are two options facing management.
The company will either continue with the remainder of its liquid milk production, to sell that side of the business and cease liquid milk processing altogether.
Cheese will continue to be made at the plant, which currently employs a total of 140 workers, the largest private employer in the area.
Sixty-five million litres of milk is processed into cheese under the Dragon label.
If liquid milk processing ceases at the plant, the surplus milk would be diverted into cheese making.
A decision will be made in two weeks.