Alwen Jones found guilty of murdering Emma Jones from Penygroes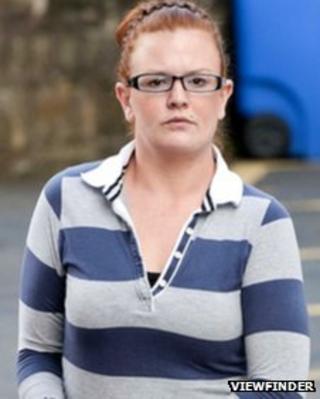 A 24-year-old woman who was angered when another woman laughed at her has been found guilty of her murder.
Alwen Jones, of Llanllyfni, plunged a kitchen knife into Emma Jones, 31, at the entrance to flats at Penygroes, Gwynedd, in December last year.
Mother-of-two Jones had the knife tucked inside her bra, Caernarfon Crown Court heard.
She was angered when Emma Jones laughed at her but had claimed she had not meant to stab or kill her.
Jones will be sentenced on Thursday.
The judge Mr Justice Griffith-Williams told her: "I have to determine the minimum term you must serve. I want to think about that overnight."
The prosecution had previously told the jury that Alwen Jones claimed Emma Jones deserved what had happened after an attack on a family member weeks earlier.
'Flipped'
The fatal attack happened on 10 December last year. The court was told Alwen Jones's 21-year-old sister Grace had been asked to leave a house party at the flats by Emma Jones and her boyfriend following a disagreement.
However, Grace Jones phoned her boyfriend, who was at the defendant's home.
The prosecution said Alwen Jones became angry and armed herself with a kitchen knife which she placed down her top.
She had claimed she carried the knife to protect herself and her sister because of Emma Jones's reputation.
Alwen Jones admitted she had a "bad temper" and was angered when Emma Jones, who died from a single stab wound, laughed at her.
The prosecutor said that before lunging at the victim without warning, a woman recalled Alwen Jones shouting: "Come outside if you think you are hard enough Emma Bach".
The court heard that Alwen Jones, who had denied murder or manslaughter, claimed she had gone to the flats to take home her sister.
When questioned by police, Jones said her "blood was boiling" and she was "mad".
"I flipped and went for her with the knife," the trial heard.
She claimed she carried the knife to protect herself and her sister "because I knew what type of girl Emma is."
After causing a single deep stab wound, she threw the knife in a nearby front garden and made her way to her father's home where she hid for some time in a shed.
Alwen Jones's QC, Elwen Evans, said on Wednesday: "She would wish through me to make it absolutely abundantly plain to the family of the person she killed, to her family, and to the community of Penygroes that she deeply and acutely regrets her actions and is profoundly remorseful."