Colwyn Bay rail enthusiast auctions garden steam train and track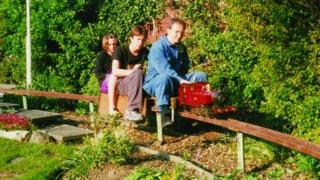 A 99-year-old railway enthusiast has auctioned his miniature steam engine and track from around his garden after having to move into a nursing home.
Harold Barton retired to Colwyn Bay, bought a home opposite the Holyhead to Chester line, and set about building the line for his red tank engine.
It can carry two adults or four children, but his son Alec, 60, said the "little red tank engine must go".
The lots raised £2,800 at auction in Colwyn Bay on Tuesday.
Alec Barton said before the sale: "I just hope it goes to a home where it will provide as much entertainment as it did for me and my children.
"Riding behind it, sitting on the carriage my father made for it, was very exhilarating.
"You had to jog to keep up with it, even when it was laden with children."
A draughtsman and engineer by profession, Harold Barton retired in 1972 and moved to Colwyn Bay.
He then built the 5-inch gauge tank engine and wooden driving and passenger trolley.
He also installed the 70m (230ft) circular track which runs around the perimeter of his garden, complete with "station" and signal.
Mr Barton taught engineering students at Coleg Llandrillo Cymru in Rhos on Sea.
But he spent most of his retirement devoted to two hobbies - his trains and singing as a chorister at Bangor Cathedral.
He is reputed to be the longest-serving member of North Wales Model Engineering Society (NWMES) and was known for running steam engine rides at the annual Llandudno Extravaganza.
Auctioneers Rogers Jones Co said the sale, along with other memorabilia, attracted interest from steam railway enthusiasts across the country.