Porthmadog's Princess steam loco departs Ffestiniog rail line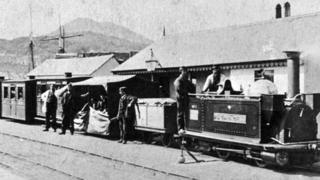 A narrow gauge steam train is going back on the tracks 149 years after rail pioneers said it was not cut out for a life pulling slate in north Wales.
The Princess worked the Ffestiniog rail line at Porthmadog after being built in London in 1863.
Following a revamp this winter it is to make a return journey to go on show at Paddington station.
It was being removed on Saturday from its home at Spooner's Pub at Harbour Station where it became a fixture.
Experts at Ffestiniog railway say it is regarded as the world's first narrow gauge steam locomotive.
And they add that it was the last to work the tracks when the line closed to slate in 1946.
Enthusiasts who started to reopen the line from 1955 put the engine into storage.
They eventually restored it and made the pub its final destination in 1981.
On Saturday passers-by in Porthmadog will see it hauled from the pub and taken along its old tracks to return to a workshop for some "tender loving care".
Once the work is complete the Princess will make a journey south to London's Paddington station.
It will eventually be put on display during St David's Day celebrations in London as well as being used at a number of other events throughout the year to mark its 150th anniversary.
But the engine is unable to travel by rail line itself as it can only run on a two foot wide narrow gauge.
'Proved wrong'
When founders of Ffestiniog railway announced they were constructing the line for the Princess and its sister engines, rail expert contemporaries like Robert Stephenson and Isambard Kingdom Brunel are said to have scoffed.
Neither believed the line or the locos were sufficient to pull slate carts over the rugged terrain, according to Andrew Thomas at Ffestiniog & Welsh Highland Railways.
"All the problems were ironed out and they were proved wrong," he said.
The carts were originally pulled by horses, like the 10 that took the Princess to Porthmadog after it arrived in Caernarfon from London in 1863.
Mr Thomas said the horses could not work quickly enough when demand for slate continued to grow.
So engineers turned to steam engines to return the carts back up the line to the slate quarries before they were returned down the line under their own gravity.
The Princess is to be used to showcase the heritage of the line and is not expected to go into service proper, unlike its stablemate the Prince.