London Tube: Metropolitan Railway Jubilee carriage restored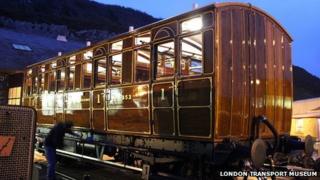 A 120-year-old train carriage built for the world's first underground railway, but which fell into disrepair, has been restored to its former glory.
The 1892 London Metropolitan Railway first class Jubilee carriage ended up being used as a garden shed.
Craftsmen at the Ffestiniog and Welsh Highland Railway took 15 months to repair it thanks to a £422,000 grant.
It will return to the London Transport museum in January to mark the 150th anniversary of the London Underground.
Since August 2011, the carriage has undergone extensive renovation at Porthmadog.
There is more than half a mile of lining on the outside and more than £700 worth of 23.5 carat gold leaf on the carriage.
All writing on the carriage has been completed by hand and 92% of the wooden frame is original.
The carriage was originally fitted with gas lighting which is no longer allowed under current safety regulations.
Modern LED lamps have been fitted to give the appearance of gas mantles.
"But to see the finished article was very special. To see her roll out for the first time and see Snowdon in the background - it was something else."
Andrew Thomas, from the Ffestiniog and Welsh Highland Railway, said: "We had a team of six people, including some apprentices because that was part of the deal with the Lottery Heritage Fund - they want us to teach young people new skills.
"It was in quite a sorry state when it arrived - it had been used as a shed and had a toilet attached at the end.