Horse Wesley rescued upside down in hole in Kinmel Bay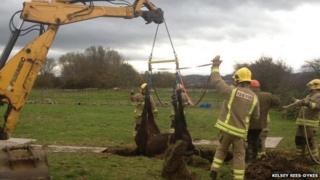 A horse had a lucky escape after falling backwards into a hole and becoming trapped upside down.
Firefighters used a mechanical digger to winch Wesley to safety, legs first, from the 6ft (1.82m) ditch in a field at Kinmel Bay, Conwy.
The horse became stuck after escaping into a neighbour's field.
Owner Kelsey Rees-Dykes said she feared the worst when she found the gelding in a tight squeeze but he escaped without injury.
Ms Rees-Dykes described the nine-year-old as a character and mischievous who has tried previously to get through fencing.
'Very lucky'
She says she checked on Wesley the night before and all was fine, but the neighbour spotted something amiss early the next morning when boards covering footings for building work in an adjacent field had been dislodged.
"The vet said he was very lucky," said Ms Rees-Dykes, an equestrian centre worker.
"I was distraught at first. I thought it was going to be bad."
It took the help of a dozen or so firefighters and others to lift the horse to safety in an operation that took about three hours.
North Wales Fire and Rescue Services sent in specially trained animal rescue firefighters with specialist equipment.
A fire service spokesperson said they worked in tandem with the owner of a mechanical digger to lift the horse from a narrow ditch.
Ms Rees-Dykes said the horse was more stressed with the number of people around it as it was unable to protect or right itself.