Propeller leg boy Cian Wyn Williams switches on Christmas lights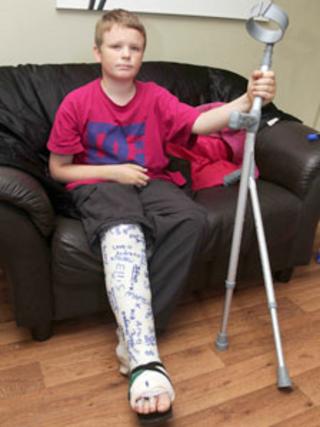 A 14-year-old boy who nearly lost his leg in a boating accident will switch on his town's Christmas lights later.
Cian Wyn Williams was caught in the propeller of a speedboat while he was trying to climb back into it after swimming Porthmadog harbour in August.
He was airlifted to hospital and doctors saved his right leg with 700 stitches and three operations.
Cian returned to school this week and will switch on Porthmadog's Christmas lights at 18:30 GMT.
"It's such an honour, and I don't know if I've really done anything to deserve it," he said.
"But it's the perfect way to round-off a pretty horrible year and look forward to the next.
"I just hope that by doing this I can maybe help people with injuries like mine, and show them not to give up because there's always a way back."
Sporting goal
Cian's foot still sticks out at more than 45 degrees off straight, and he can only walk with the aid of crutches.
The air ambulance crew which rescued Cian originally feared that the leg may have to be amputated, but it was saved by medical staff at Ysbyty Gwynedd, Bangor.
Cian says the physiotherapy is progressing well and he hopes that in time he may not only walk normally, he may even be able to resume playing rugby.
"Of course I've had to work really hard at the physio, but as well as that I've been really lucky and all the exercises I've done have worked," he said.
"It'll still take a lot of time but I've got a vision of running back onto the rugby field to keep me going.
"Even if that doesn't happen, the last few months I've realised what's important. I'm back in school, seeing my mates, and am alive and happy."
Cian will throw the switch at a ceremony in Porthmadog Park at 18:30 GMT on Saturday.
The event and the lights have been organised jointly by Porthmadog town council, the local chamber of trade, and charity Ffrindiau Port, which has raised up to £3,000 from donations to pay for new energy saving lights.
"It's quite a week for Cian and all those who have contributed towards organising Saturday's event," said council chairman Alwyn Gruffydd.
"The new lights will undoubtedly be a sight to behold and an added attraction to the town in the run-up to Christmas."