National Trust offers Llyndy Isaf to young farmer for year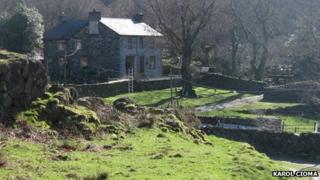 A young farmer will be offered the keys to a £1m farm in Snowdonia as part of a new one-year scholarship.
One candidate will be chosen annually to manage 600-acre (240ha) Llyndy Isaf in Gwynedd with support from specialists at the National Trust (NT).
It bought the farm after a public fundraising campaign last year backed by Welsh actors Matthew Rhys and Catherine Zeta Jones among others.
The Wales Federation of Young Farmers Clubs (YFC) will select candidates.
To be eligible for the Llyndy Isaf Scholarship, candidates have to be members of Wales YFC and aged between 18-26.
Candidates will be invited for interview and shortlisted before the first successful candidate is revealed next year.
Wales YFC chief executive Nia Lloyd said the successful candidate would have the opportunity and responsibility of managing all aspects of running the farm from practical work and stock management to administration.
The campaign to buy the property in the Nant Gwynant valley, which includes the Llyn Dinas lake, was the NT's biggest countryside appeal since its drive to save Snowdon more than a decade ago.
Trystan Edwards, the NT's farming adviser for Wales, said the candidate would have support to manage the farm, which is also home to threatened species like kingfishers and otters, from staff working in Snowdonia.
"This initiative will ensure that the successful candidate can build their confidence and develop their skills," said Mr Edwards.
Dafydd Jarrett, NFU Cymru policy adviser, said the union welcomed any development that provides an opportunity for young people in agriculture.
"Welsh farming needs highly skilled young people to help take the industry forward in future," he said.
"Skills development for running and taking management responsibility for a hill farm will be an unmissable opportunity."
The NT says about 20,000 people helped to raise £1m to save the farm in under eight months after it was put on the market by the former owner who was retiring and had no one to carry on the work.
In 1998, Sir Anthony Hopkins helped raise £4m to buy the Hafod y Llan estate on the southern flank of Snowdon when he got involved in a similar appeal.