Sunken ship MV Swanland suffered 'structural failure'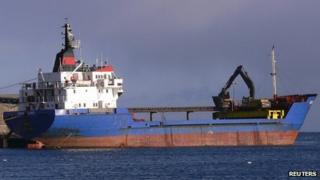 A cargo ship suffered a "catastrophic structural failure" before sinking and claiming the lives of six of its crew, an investigation has found.
The MV Swanland was in the middle of a gale force storm and 4m (13ft) waves off the Gwynedd coast last November.
The waves snapped the hull of the ship, which was carrying quarry stone loaded at a jetty near Llanddulas.
The Marine Accident Investigation Branch interim report said the ship sank in around 15 minutes.
The report said two questions remained: "The causes of Swanland's catastrophic structural failure, and why only two of the vessel's eight crew survived".
The tragedy unfolded on 27 November last year, the day after the vessel had collected a 2,730-tonne cargo of limestone at Raynes Jetty.
The ship was caught in a storm off the Llyn Peninsula in the early hours and hit by a couple of giant waves which led to a broken hull.
Within a quarter of an hour, the ship had sank and a major rescue operation launched.
Two of the eight Russian crew managed to clamber aboard a life raft and were winched to safety by a rescue helicopter team from RAF Valley.
Roman Savin, 26, and Vitaliy Karpenko, 48, later thanked rescuers for their efforts in such difficult conditions.
RAF winchman Richard Taylor, who was part of a four-man team which included the Duke of Cambridge, won a bravery award for his efforts during the operation.
The body of a third crew member was later recovered from the water but the bodies of the five remaining crew have never been found.
The report said: "The search for the six missing crewmen continued among a large amount of floating debris.
"The body of the deceased chief officer was sighted and winched on board an Irish rescue helicopter.
"He was wearing an immersion suit, but not a lifejacket."
The immersion suit "did not have sufficient inherent buoyancy to keep the chief officer afloat and so needed to be worn with a lifejacket".
Sonar surveys of the wreck were conducted earlier this year on behalf of the Marine Accident Investigation Branch.
"These surveys confirmed that the wreck was lying inverted in a south to north orientation, in approximately 80m of water," said the report.
"During 6 and 7 February 2012, underwater surveys of Swanland... established that a significant structural failure had occurred close to the vessel's midships on both the port and starboard sides."
The interim report said the investigation was due to be completed by the end of the year with a final report published in April next year.