Betws-y-Coed council flower ban at wife memorial bench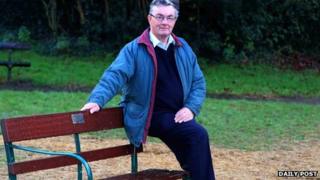 A widower has criticised a "no flowers" sign placed by a community council on a memorial bench for his wife.
Dennis Bannister put up the bench in in Cae Llan village park in Betws-y-Coed in Conwy in memory of Patricia, who died 16 months ago.
But the village council has asked visitors not to leave flowers there as it is a recreational area, and it had to take "all local views into account".
Mr Bannister, of Denbigh, said: "All I can say is they're very sad people".
The retired welder put up the memorial to remember his wife, as he said they used to spend happy times there together after moving from Surrey to retire seven years ago.
"We used to like sitting down, having a nice day, watching the kids play... and watch the world go by.
"So I thought it was a nice idea to have a memorial bench put up there."
Mr Bannister said he was surprised when he was rung and asked not to leave the flowers on the bench but that he could put down a flower pot by the side instead.
'Not insensitive'
But he told BBC Wales: "If I put flowers down on the bench on specific dates like birthdays, Christmas and anniversaries etc that's what I'd like to do.
"I don't want something there that's permanent."
Caerwen Roberts, clerk of Betws-y-Coed Community Council, said in a statement that following numerous complaints from people using the park, it decided that flowers were no longer appropriate to put on the benches.
"People were unhappy with the flowers being left - they said it was not appropriate to put flowers in a recreational area.
"I have explained to Mr Bannister on more than one occasion that we are not insensitive to these matters, we understand he is upset, and we tried to compromise by letting Mr Bannister and others plant flowers in a container instead.
"We understand his concerns, but we must take all local views into account."