Norovirus vomiting bug hits five north Wales hospitals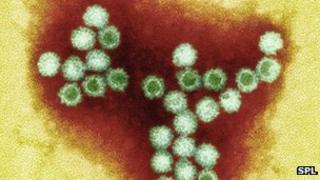 The diarrhoea and vomiting bug norovirus has spread to five hospitals across north Wales, with 31 patients falling ill, a health board says.
Visitors are being urged to help stop the infection at Ysbyty Gwynedd, along with Dolgellau, Colwyn Bay, Glan Clwyd and Wrexham Maelor hospitals.
Betsi Cadwaladr University Health Board says there are restrictions on admissions at eight wards.
The number of norovirus infections in the UK is at higher levels than normal.
On 7 December the health board reported that the bug was affecting Wrexham Maelor and Glan Clwyd hospitals at Bodelwyddan, Denbighshire. But it has now spread to three more hospitals in Gwynedd and Conwy.
The health board urged the public to help it keep the infection away from hospitals and it has issued guidance to help stop the bug spreading.
It said that most importantly anyone who has suffered from diarrhoea and vomiting should be free of symptoms for at least 48 hours before going into hospital as a visitor.
Anyone who is due to go in as a patient who develops the illness should ring the ward or outpatient department for advice before doing so.
A Betsi Cadwaladr spokesperson said the most effective step that everyone could take to protect themselves from infectious illness was to wash hands regularly.
In particular, visitors going to see family or friends in hospital must use the cleansing hand gel or foam provided at every ward entrance.
The spokesperson added there should be no more than two visitors at any bed at any time, while young children and babies should not be taken onto the wards.