Bangor nightclub bouncer jailed for injuring soldier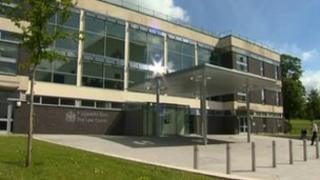 A judge who jailed a nightclub bouncer who inflicted multiple injuries on a soldier has criticised the "culture of using force" among the venue's doormen.
Judge Merfyn Hughes QC said supervisors at The Embassy Nightclub in Bangor were reckless about customers' safety.
John Lloyd Shepherd, 32, from Mochdre was convicted of grievous bodily harm and jailed for two years.
The attack on victim Daniel Mark Hogan was said to have aggravated the effects of being shot in Afghanistan.
Sentencing Shepherd at Mold Crown Court on Monday, Judge Merfyn Hughes QC said he had abused his power.
The judge told Shepherd that while ejecting Mr Hogan, he held him in a headlock in a way that made it difficult for him to breathe.
CCTV film
"Judging by the manner two others were ejected by other door supervisors, there was among the door supervisors a culture of using force and being entirely reckless as to the safety of patrons."
The judge also said he rejected any suggestion that Mr Hogan had tried to bite or kick out at Shepherd.
He said Shepherd had marched the soldier across a courtyard in such a way that he lost consciousness and went limp.
He walked him onto the pavement and a CCTV film showed Shepherd throwing him down so that he struck his face, suffering a serious injury.
The defendant and other doormen had claimed they were dealing with disorderly behaviour, but the judge said passers-by and others standing nearby were entirely justified in protesting at their actions.
Mr Hogan was in a semi-conscious state until the next day when a CT scan showed multiple facial injuries. He had a fractured cheek, a fracture of the lower jaw and a suspected fracture of the right eye socket.
The surgery he underwent involved wiring the right side of his face and placing a metal plate in his jaw. The injuries also affected him psychologically.
"This incident aggravated the effect upon him of being shot while on duty in Afghanistan. He had lost confidence in a social setting when visiting similar premises," the judge said.
Judge Hughes said Shepherd had three previous convictions following two separate incidents, including one when he kicked someone in the face breaking his nose.
The location and time of the incident, at a nightclub late at night, aggravated the latest offence, he said.
"Your duties required you to ensure the safety of patrons and not to expose them to the risk of injury.
"You abused your power as a door supervisor."
The judge said he took into account Shepherd's personal position and the fact that his wife and child suffered from epilepsy, and would be affected by his absence.
Shepherd had denied causing grievous bodily harm but had been found guilty following his trial at Caernarfon Crown Court.