Blaenau Ffestiniog town council cracks down on stray sheep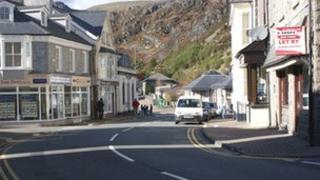 Stray sheep could be rounded up by a Gwynedd town council - and then sold if the owners cannot be traced.
Sheep used to be a common sight in the hillside town of Blaenau Ffestiniog, but better fencing and other measures had banished them to the hills.
Now some have found their way back, and councillors are concerned they could cause a road accident on the main A496.
The Farmer's Union of Wales has offered to meet with town councillors to discuss the matter.
Any money raised from sheep sales would go towards regeneration plans in the town.
"We've been discussing this over a couple of our meetings," said Rory Francis the town council's chairman.
"We discussed it again last week, although strangely the sheep causing the problem seem to have disappeared for the time being after publicity about our plans - although we will still keep an eye out in case they, or others, come back.
"We're also planning a meeting with local farmers - something they have asked for - and that will probably be before the end of January before the lambing season starts."
Concerns had been raised about road safety issues and the fact the sheep were making a mess on pavements and were eating plants from people's gardens.
"Up to about 30 years ago Blaenau, and nearby Tanygrisiau, were considered part of the mountain, but that is no longer true.
"Sheep should not be in a town," Mr Francis added.
Huw Jones, the regional officer for the Farmers' Union of Wales (FUW) in the Meirionnydd area of Gwynedd, said there were definite guidelines for farmers' in relation to sheep straying.
"I'd be happy to go and speak to the town council on behalf of the farmers," he said.
"It all depends on why the animals are wandering in the first place.
"The council needs to take into account too that any animals they round up would have to be fed and looked after."