Sewage in Llandudno Junction streets after flooding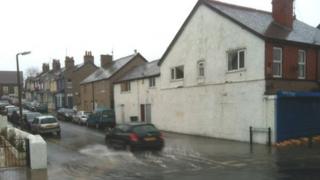 People in part of Llandudno Junction in Conwy say they are having to walk through sewage water bubbling up from the drains and flooding the streets.
A local county councillor said the drainage system has not been able to cope with recent wet weather.
Mike Priestley is demanding urgent improvements before someone becomes seriously ill.
Welsh Water said its sewage system has been overloaded in some areas but it is working to alleviate the problem.
Mr Priestley said: "Parts of the road system near Llandudno Junction are regularly flooding at the moment.
'Getting worse'
"There's toilet tissue and sludge floating in the water, and caking the pavements when the water goes down.
"Goodness knows what germs are in there. Is there any wonder that there's all the illnesses doing the rounds when people are walking through that?
"The problem is getting worse - the area now seems to flood even with light rain, as the drains can not cope at present
"In one road - Broad Street - it forces pedestrians onto a busy main road when pavements are flooded and children also walk through this contaminated water on the way to school."
Sandra Taylor is the manager of Station Stores, a newsagents opposite Llandudno Junction station. The shop is often surrounded by water from the drains.
She said: "It's like being on an island. Nobody can get to the shop and we're losing hundreds of pounds in trade."
Mr Priestley said he has spent many hours on the phone to Dwr Cymru Welsh Water trying to get something done.
He added: "Dwr Cymru Welsh Water do come out to clear the drains, but I'm asking them to bring any improvement work forward to try and solve the problem."
A spokeswoman for the water company said: "We are undertaking a billion pound investment programme over the next three years to deliver improvements throughout Wales. These works have been agreed with the regulator and are carried out in priority order.
"We are at present experiencing prolonged periods of exceptionally heavy rainfall which has overloaded our combined sewerage system in some areas. We are doing all we can to alleviate the problem and keep the system operational.
The spokeswoman added they had already liaised with Mr Priestley and that they were working with him and other agencies to resolve this issue.