Snowdon 4x4 case: Craig Williams says it 'wasn't that difficult'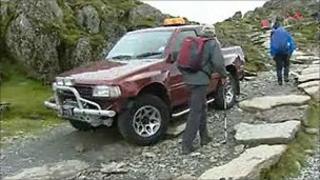 A man accused of driving his 4x4 vehicle up Snowdon twice has told a jury that "it wasn't that difficult".
Craig Williams, of Cheltenham, told Caernarfon Crown Court the mountain was deserted and less steep than public roads.
Mr Williams' Vauxhall Frontera was found 200m from the 3,560ft summit in September 2011.
The 40-year-old, who failed to turn up to court on Wednesday, denies two charges of dangerous driving.
"It wasn't that difficult," he told the jury.
"It wasn't that dangerous. There wasn't a soul on the landscape in the hours of darkness. There were 50 to 60mph gale force winds, the rain was hard."
But he insisted: "There are higher gradients on a public highway."
Mr Williams went on: "When you are in a 4x4, slow crawl momentum, precise low speed, the wind factor isn't very much to be concerned about. The rain also isn't."
Mr Williams denied driving on the Snowdon Mountain Railway on 3 September, when his 4x4 was found 200m from the summit.
When asked by his barrister Brian Treadwell what his intention was when he set off on his journey, Mr Williams replied: "I guess, if I am honest, to see how far the challenges could proceed."
Mr Williams was not in court to hear the prosecution's case on Wednesday which said he drove dangerously on footpaths and the railway track.
He denies the offences and has claimed someone else drove the vehicle up the peak on the second occasion, 29 September, after taking it from outside a Llanberis bunkhouse.
"I thought it had been moved as a prank, unfortunately not," he said.
"I found in the communal room a scribbled note saying 'beat you, better luck next time'."
He told the jury: "For those who have got off-road terrain tyres and the knowledge of the modifications that will be required ... it's not a perilous feat."
'Sheer stupidity'
Peter Trumper, a property manager for the Snowdonia National Park Authority, said the 4x4 was parked on the roof of the summit shop, which is partly underground, on the second occasion.
"I was worried about the weight of the vehicle," he said.
The jury had earlier been told by the prosecution that "sheer stupidity" got the better of Mr Williams, "not once, but twice".
The court was told Mr Williams used the Llanberis path and railway track to reach the summit.
The prosecution said no vehicles were allowed onto the track and the defendant's actions had put himself and others in danger.
The trial continues.