Snowdon 4x4 case: Craig Williams jailed for 22 months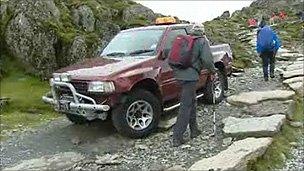 A man who drove his 4x4 vehicle up Snowdon twice has been jailed for 22 months at Caernarfon Crown Court.
Craig Williams, from Cheltenham, was found guilty of two charges of dangerous driving.
His sentence also included a six-month jail term after he failed to show up in court for the start of the trial earlier in the week.
Williams' Vauxhall Frontera was found twice on the 3,560ft summit in September 2011.
The 40-year-old had admitted driving the car the first time it was discovered, some 200m from the summit cafe - but denied it was dangerous.
He also denied being responsible for taking the 4x4 up the mountain again a few weeks later - this time reaching the top of the peak.
Giving evidence, he told the jury: "It wasn't that difficult.
"It wasn't that dangerous. There wasn't a soul on the landscape in the hours of darkness. There were 50 to 60mph gale force winds, the rain was hard."
But he insisted: "There are higher gradients on a public highway."
He said the second visit to the summit had been carried out by another person who had taken his car without his knowledge of permission.
He claimed he later found a note boasting: "Beat you - better luck next time".
He also denied that he had driven on the rail tracks of the Snowdon Mountain Railway, causing thousands of pounds worth of damage.
However, a jury agreed that the driving was dangerous, and also found him responsible for driving the Frontera up the mountain a second time.
As he was sentenced, it emerged that Williams had sent an email to his lawyers and the judge indicating that he had no intention of attending his trial, and would commit suicide.
A man resembling Williams was also captured on CCTV in the early hours of the first trial day on Wednesday, sticking a note to the window of the court buildings.
It read: "Can't catch me, try to catch me if you can".
The notes sparked a search operation involving mountain rescue teams and a police helicopter.
Williams was finally found sleeping in a vehicle in Snowdonia and arrested.
Williams was handed a six month jail sentence for the first dangerous driving conviction, 10 months for the second offence, and a further six months for failing to answer bail at that start of his trial. The sentences must be served consecutively, making a total of 22 months behind bars.
He was also banned from driving for three years and ordered to take an extended driving test.
Jailing him, Judge Merfyn Hughes QC said: "The danger you created on both occasions was both obvious and serious. That no-one was injured is no thanks to you.
"This was a deliberate act on both occasions and can be correctly described by the prosecution as a stunt."
"It was committed by you for your own selfish reasons and in complete disregard for the safety of others exercising their lawful right to enjoy Snowdon.
"You have showed no remorse whatsoever. Your involvement has cost many thousands of pounds to the public who have had to clear up the mess you have left behind."