Gwynedd schools: Groeslon, Carmel and Fron primaries to close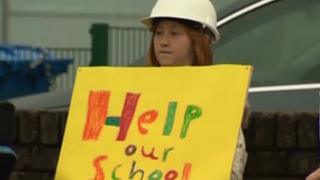 Three primary schools in Gwynedd face closure to make way for an area school in an education reorganisation.
Ysgol Groeslon, Ysgol Carmel and Ysgol Bronyfoel at Fron would make way for one £4.8m area school in the village of Groeslon near Caernarfon.
Parents at Groeslon have been campaigning for improvements as parts of the school are in poor repair.
The councillor in charge of education said she sympathised with communities which would lose their school.
Sian Gwenllian, Gwynedd cabinet member for education, said a number of possible options and locations had been considered.
Any potential impact on the education of pupils, the long-term sustainability of education and the Welsh language, had also been taken into consideration, she said.
"This work confirmed that a new area school on a single site offered by far the best solution in terms of educational and linguistic opportunities for the pupils of the three communities."
'Opportunity'
A local area panel - made up of head teachers, chairs of governors, parent governors and local councillors - had not agreed with the proposals.
"Although there was no agreement regarding the proposal from members of the panel, there was a consensus regarding the need to move the discussion forward," she said.
A group will now be set up to "make the most of this opportunity for the benefit of the pupils of the area", she added.
"I fully sympathise with the communities of Y Fron and Carmel who will understandably be saddened by the proposed changes.
"They can however rest assured that the council will do everything within its power to support them through this difficult period and to minimise the impact of the possible closures on community life."
The recommendation now needs the backing of the council's ruling cabinet before obtaining Welsh government funding.
The plans are part of a county-wide reshuffle of education in response to falling pupil numbers and out-dated school buildings.
Last September the council's plans to close Ysgol Y Parc near Y Bala was approved by Education Minister Leighton Andrews.
It is due to close in September 2013 on the grounds of being too small to be viable.