Man bailed after fatal crash on Anglesey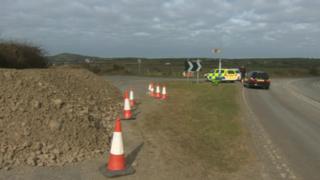 A 23-year-old local man who was arrested after one man died and three people were injured in an Anglesey car crash has been released on bail, say North Wales Police.
The fatal accident happened on the A5025 north of the village of Llanfaethlu at about 02:00 GMT on Saturday.
The man who died was 32, and local, police say.
Two men and a woman were taken to Ysbyty Gwynedd in Bangor for treatment.
Police are appealing for people who saw the red Ford Fiesta car being driven in the area at the time.
The road was closed for investigations but has since reopened.
Anyone with information is asked to contact 101 quoting incident number PO32235.